Conversions Plus - Converting Files*
File translation may seem like an intimidating endeavor, but it doesn't have to be. Conversions Plus offers several different easy ways to translate files and access Macintosh media that will appeal to the computer novice and the expert alike. If you are moving to Windows machine from a Macintosh,
Conversions Plus can even translate batches of like files at one time. See below to see how easy it is to translate files with
Conversions Plus. Best of all, most attributes are preserved.
Buy Conversions Plus 6.0 by Dataviz
---
Just Right Click...
On a file to access all the tools
Conversions Plus has to offer.
Conversions Plus will even remember the last format you converted to for added convenience.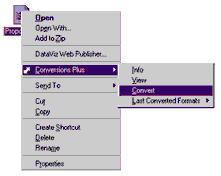 Or Use The Interface...
To find files and convert them into a format you can use on your PC.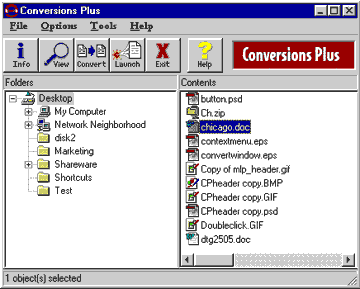 Choose the format you need to convert into, and you are ready to go...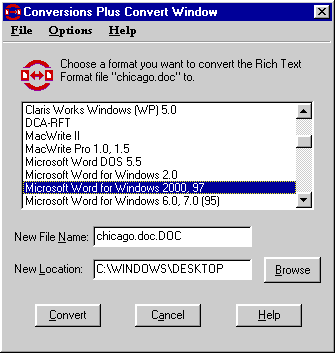 And the result...
Converted documents retain the characteristics of the original. This includes document formatting such as bold, italics, headers, footers, style sheets and embedded graphics. For example, the document on the left was originally created in ClarisWorks on a Macintosh. Using
Conversions Plus, the document can be converted to a variety of Windows formats - such as Word for Windows on the right.
*Graphics and material used by permission